Discover more from LawDroid Manifesto
A rallying cry for legal innovation
April 2023 - LawDroid Manifesto Update
A recap of what I've been up to and what I've learned
It's been a minute since I posted. I'm back from a break and I have some interesting stuff to catch you up on.
FutureLaw, California Sun, and Friends
A week ago today I flew down to San Francisco and attended CodeX FutureLaw 2023, the "eleventh annual conference focusing on the way technology is changing the legal profession and the law itself, and the way these changes affect us all." A one day event: it was hosted at Stanford Law School and organized by Roland Vogl, who is the Executive Director of the Center for Legal Informatics (CodeX).
Thanks for reading LawDroid Manifesto! Subscribe for free to receive new posts and support my work.
If you haven't attended FutureLaw, I highly recommend it. It's not your typical Legal Tech conference in that, given it's Stanford, you have some true subject matter experts in artificial intelligence and professors that have thought deeply about the intersection of law and technology. Roland also regularly hosts new legal tech startups at Stanford Law School to introduce their products and their presentations are broadcast out to the world via Zoom. It's a wonderful way to stay up to date on the sea of innovation in our space. You can learn more by visiting the Codex website.
---
⚠️ Digression Alert
On a side note, it was 6 years ago this month that I myself was invited by Roland to Stanford Law School to share LawDroid with the world. At the time, LawDroid's focus was a little different than it is now…
I had created a proof of concept chatbot that helped entrepreneurs incorporate a business in California by answering a few questions. It literally took less than five minutes to complete the interview and the system outputted a filled out form that could be printed, signed and mailed in because - you guessed it - California was still only accepting paper forms back then. After my presentation, one of the attendees approached me about helping him incorporate and he was able to get set up in a few minutes on the spot. And, thankfully, after some back and forth with then Secretary of State Alex Padilla, California updated its incorporation process to accept electronic applications, complete with chatbot assistance.
---
Now, back to regular programming…
Dereliction of Duty
Ralph Baxter, former Chairman and CEO of Orrick and Fellow at the CodeX Stanford Center on Law and Informatics, held the opening keynote at the FutureLaw conference, a presentation he called "Dereliction of Duty." In it Ralph discussed the access to justice crisis. Standing out like a sore thumb was one statistic: "80% of Americans have no access to a lawyer."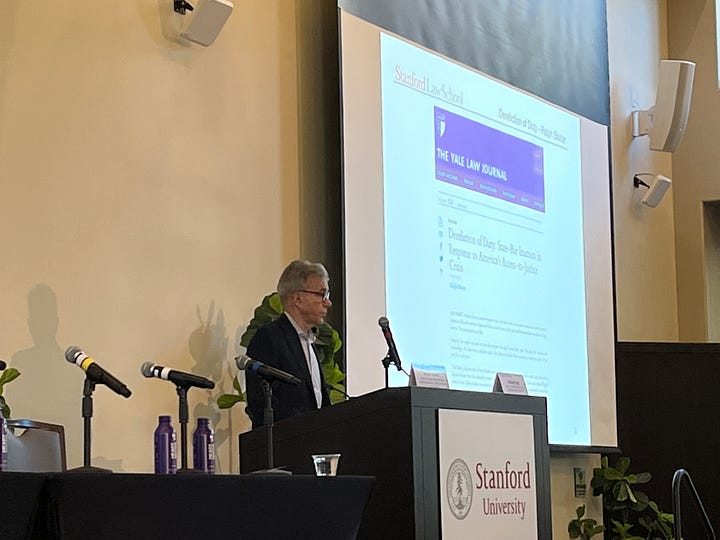 To be honest, although this fact is admittedly alarming, it is certainly not new information. It is a statistic that is trotted out almost every time there is any discussion about access (or lack of) to justice. And this is not intended as a knock on Ralph. He's worked for many years to be part of the solution. Rather, my pointing this out betrays my frustration with the eternal recurrence of the same unjust situation in which we find ourselves. And, I wasn't the only one in the audience who felt this way.
One of my colleagues stood up and made an entreaty to the audience after Ralph's presentation to get involved with their bar associations, board of governors, and government to advocate for change as he himself has done. Pro bono will never fill that gap. 1 to 1 legal representation cannot fill that gap. If, as the ABA Model Rules of Professional Conduct espouse, "lawyers play a vital role in the preservation of society," then, as Ralph acknowledged, it is our responsibility as lawyers to change the system to give that silent 80% a voice and preserve our society.
Spirited Discussions
Mark Chandler headed a panel about advances in court process automation to help litigants to more effectively navigate the legal system. Panelists included Noella Sudbury of Rasa Legal, George Simons of SoloSuit, Charley Moore of Rocket Lawyer, and Grace Spulak of the National Center for State Courts.
Noella, who was named to Inc. Magazine's Female Founder list, spoke about the obstacles her clients face in accessing affordable legal options. Her company, Rasa Legal, is a justice tech startup that provides low-cost legal expungement services to people not eligible for automatic record clearance. In a nutshell, Rasa helps people to restart their lives. (By the way, Rasa was also a winner of last year's Access to Justice Award at the American Legal Technology Awards in Nashville, Tennessee 🙌.) Many times the access to justice gap is talked about in abstract economic terms. Noella made the brilliant point that a key to closing the gap is humanizing and emotionalizing the stories of people affected. When we can see those who are disenfranchised as 'us' rather than 'them,' we are more driven to make a change. Totally agree with her.
GPT-4 Passing the Bar Exam
All of us have probably heard too much at this point about OpenAI and ChatGPT (including yours truly who is a fan of AI and enjoys running a Legal AI company). The constant drumbeat of news: ChatGPT in November, GPT-4 in March, ChatGPT plugins soon thereafter and now AutoGPT, it's hard to comprehend the bigger picture. The change is non-linear: it's exponential and reminds me of this illustration that I used to use in my 2016 Powerpoints when everybody thought it was cute, but unlikely.
To bring it home, Professor Daniel Katz and Pablo Arredondo of Casetext talked about their collaboration in using GPT-4 to take and pass the bar exam, more specifically, the Multistate Bar Exam. If you look at the chart below, you can see that passing the bar was not even a twinkle in the eye of OpenAI's GPT-2, and GPT-3's davinci model just managed to do better than random guessing. ChatGPT got a failing grade at 50%, then GPT-4 knocked it out of the park, passing the bar exam and doing better than the average student.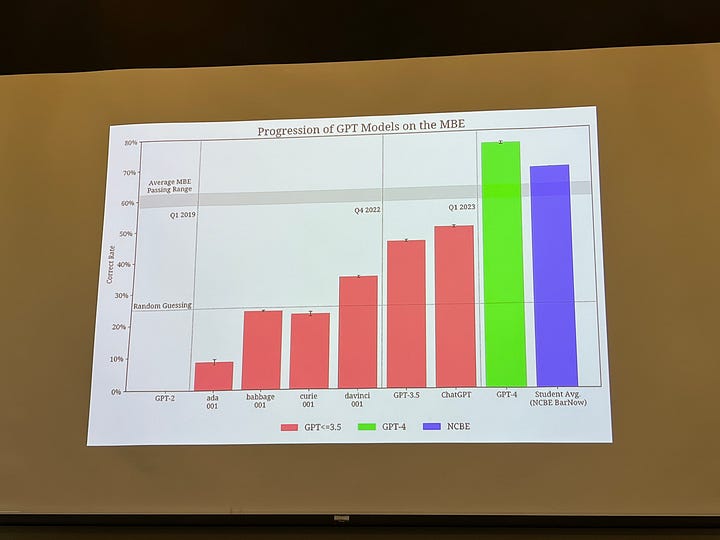 Let's take stock of that for a moment. It's become a little dizzying lately to breathlessly hop from one AI innovation success to another. A machine scored better on a test for intelligence than an average student. And this is just getting started.
Computational Irreducibility
Alright, let's get a little heady for a moment and talk about computational irreducibility. What is that you ask? Well you can blame Stephen Wolfram, but essentially it means when you can't predict the outcome even when you know everything about the system you are trying to solve. (N.B., Wolfram recently released ChatGPT plugin allows you to access computation, math and real time data.)
Computational reducibility refers to situations where the behavior of a system can be predicted or simplified by a computationally less complex algorithm or model, without having to run the entire system step by step. The weather and social and economic systems, on the other hand, are examples of computational irreducibility. There may exist simple rules that govern these physical, social, and economic phenomena, but it is not possible to predict their outcome simply from knowing the rules and the initial conditions or even by knowing all the information about how the process would play out. You would not be able to reduce the amount of steps to calculate the outcome.
Okay, so what's the point?
Well, Stephen raised the concept of computational irreducibility in opposition to the idea of AI governance, the notion that we can set out clearly defined rules that protect us from bad outcomes. Think Isaac Asimov's Three Laws of Robotics:
The first law is that a robot shall not harm a human, or by inaction allow a human to come to harm. The second law is that a robot shall obey any instruction given to it by a human, and the third law is that a robot shall avoid actions or situations that could cause it to come to harm itself.
If I understand Stephen's point, he's saying that, when AI is given complex problems to solve, it may not be possible to predict or control the outcome even if the rules that govern AI are clear cut and morally good. Sobering point, right?
While I think that Wolfram's point is well-taken with respect to the computation of complex systems (because the system itself is computationally irreducible), I would not go so far as to say that artificial intelligence itself is computationally irreducible. It depends on the type of AI that we're talking about. Simple algorithms are certainly deterministic and even though GPT-4 is certainly complex, it is not clear to me that it is irreducible in the same way as the weather, irrational numbers or the behaviour of the Mandelbrot set.
Hanging with Friends
Now, believe it or not, the deciding factor in me attending Codex FutureLaw was not the draw of geeking out with Wolfram and ChatGPT. It was, of course: my friends. I was on the fence actually until I learned that my faves Natalie Anne Knowlton, Nick Rishwain, Julie Sobowale, Chase Hertel, Dazza Greenwood, and Damien Riehl were going to attend. And once I got there, I made some new friends. The weather in Palo Alto was warm and sunny and couldn't be beat. It made me nostalgic for California.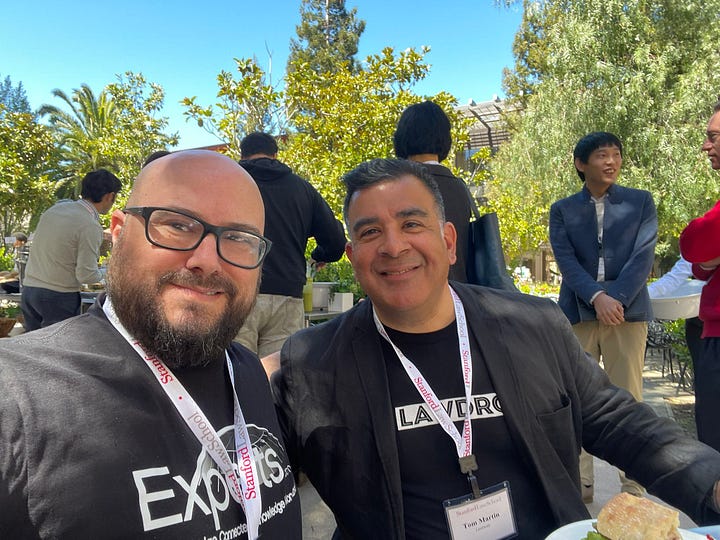 I wish I could've stayed longer but alas I needed to get back to beautiful Vancouver to spend time with family. In May I'll be off to the ABA/NLADA Equal Justice Conference in Dallas and I'll let you know how that goes.
---
Thanks for reading LawDroid Manifesto! Subscribe for free to receive new posts and support my work.
What did you think? Did you like this kind of post? Was it too dry? Not dry enough? Too many pictures?
I've given it some thought and my posts going forward will fit into four categories: 1) thought pieces, 2) what I've been up to, 3) LawDroid product updates, and 4) American Legal Technology Awards news.
Let me know if you'd like me to throw anything else into the mix.
See you next time!